about
in today's world of pre-packaged anything and everything, one artist has decided to resist the trend. emma webb's idea is simple, original artworks that can be customised to match your home perfectly. if you have been thinking about buying your own piece of artwork, but can't find anything to complement your style, this concept will excite you as much as it has me. select from the current range and order your very own original in any colour you want!
emma's paintings are all styled on the concept of open spaces and bold colours; they are great for every modern residence. with paintings inspired by anime through to traditional nudes, her pieces cater to most tastes.
adding an original artwork can be the ideal place to start or the perfect finishing touch to your home decorating. this is such a great way to add that much needed splash of colour!
jump onto the web site and have a look over this seasons designs and remember to add your own flair by choosing the colour and size. prices range from $190 - $995 per piece.

...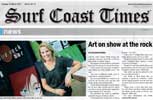 ...